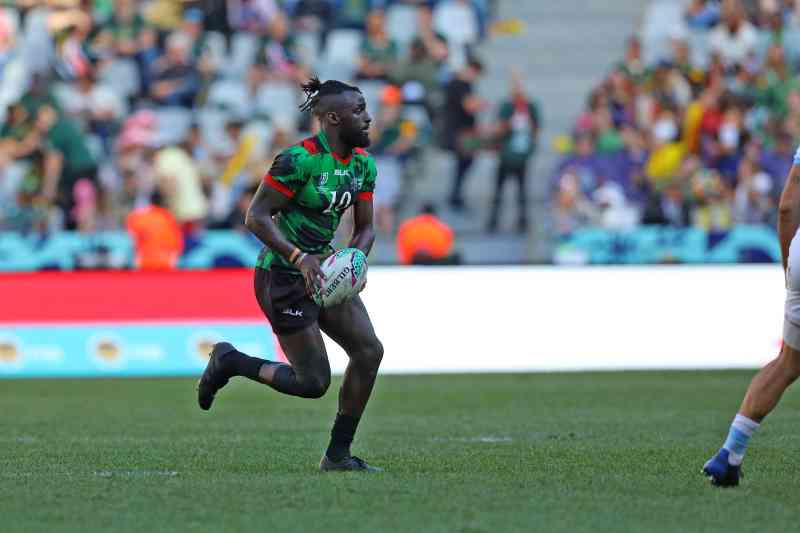 Kenyans will continue to wait for glory at the Rugby World Cup Sevens stage for four more years after Shujaa failed to progress past the round of 16 encounter at the Cape Town Stadium on Friday in South Africa. 
Despite carrying a lot of optimism and expectations, their dreams, goals and push ended in tears once again after another poor show was added to the long list of Shujaa's misses and anguish of their 2022 calendar. 
Since the beginning of the year, Kenya has not gone past the quarter-final stage of any tournament after poor results in the HSBC World Rugby Sevens Series, Rugby Africa Cup, Commonwealth Games and now Rugby World Cup. 
Currently one of the 15 "core teams" of the World Series and with a guaranteed place in all 10 events each season, many rugby enthusiasts expected Kenya to compete for titles alongside the world's best Argentina, Fiji, South Africa and Australia in Cape Town. 
This comes after the improved and promising performances at the Los Angeles Sevens, two weeks ago. However, that was not the case on Friday. 
Ironically, it simple basic rugby playing rules and indiscipline that are hindering Shujaa's performances rather than injuries, form or style of play. 
Kenya Sevens are playing really well with world class ball movement, pace and build up set plays which they got right during their opening match of the World Cup against Tonga. 
Vincent Onyala, Willy Ambaka and Nelson Oyoo scored one try each as Shujaa defeated Tonga 19-0 in the preliminary round to reach the round of 16. 
Damian McGrath charges defended well and played passionately in the win but the real test would await them later in the day as they had to face off against Argentina. 
With the burden of replicating their semi-finals' heroics in Dubai (2009) and Moscow (2013) in their mind, Kenya took the pitch against the South American side with confidence from their dominant preliminary victory. 
However, instead of playing with the same optimism they had when they faced Tonga, Shujaa were a pale shadow of their former selves. 
First, they put themselves in a difficult position with no chance of recovery when two of their players Johnstone Olindi and Samuel Oliech were sin-binned in crucial moments of each half. 
Olindi was the first man to be sent to the touchline after he was yellow carded, a numerical advantage Argentina capitalised on to lead 15-0 at the break after scoring two tries from Tobias Wade and Joaquin De La Vega and a Matías Osadczuk penalty.  
KCB's Vincent Onyala brought Shujaa back into the game at the restart with a try but Oliech, who added the extras was sin-binned again gifting the South Americans the numerical advantage. 
Alejo Lavayen immediately punished Shujaa who ended up losing 22-7. 
Yesterday, Kenya Sevens who had dropped to the Challenge Trophy quarter-finals stormed the semi-finals after seeing off Scotland 24-5. 
Herman Humwa, Billy Odhiambo, Vincent Onyala and captain Nelson Oyoo all crossed over to give Shujaa their second win ahead of their semis date against England. 
"After a disappointing game against Argentina yesterday, we were pleased to get the win against Scotland. We stuck to the plan and held the ball, a tactic that helped us ease off pressure and score points," said Odhiambo after the win. 
They have the Challenge Trophy to redeem themselves but that will not be enough.