Football, is one of the leading sports that attract the largest number of audiences and fans globally. This sport has no boundaries in terms of age, gender or religion. In that case, making it in the sport means that a promising football player has the potential of amassing a huge following across borders. In the recent past, Radamel Falcao Garcia Zarate has managed to transform the history of soccer, not just in his country of Colombia, but also in international tournaments. But who is Radamel Falcao? Where is he now? What is his next move?
Since the sport began it has gained more popularity where today there are professional footballers earning a living and enjoying luxurious lifestyles from football. Ramadel Falcao is among those successful players.The footballer has always been recalled back to Colombia during global competitions like World Cup to represent his country. In June 2017, the famous player became an all-time top-goalscorer of Colombian national team where he led the team to a 2-2 draw against Spain. This was when he scored his 26th goal. Falcao's abilities to adapt to various positions and goal scoring using his different body parts has made him one of the leading goal scorers in the world.
Ramadel Falcao profile summary
Who is Radamel Falcao?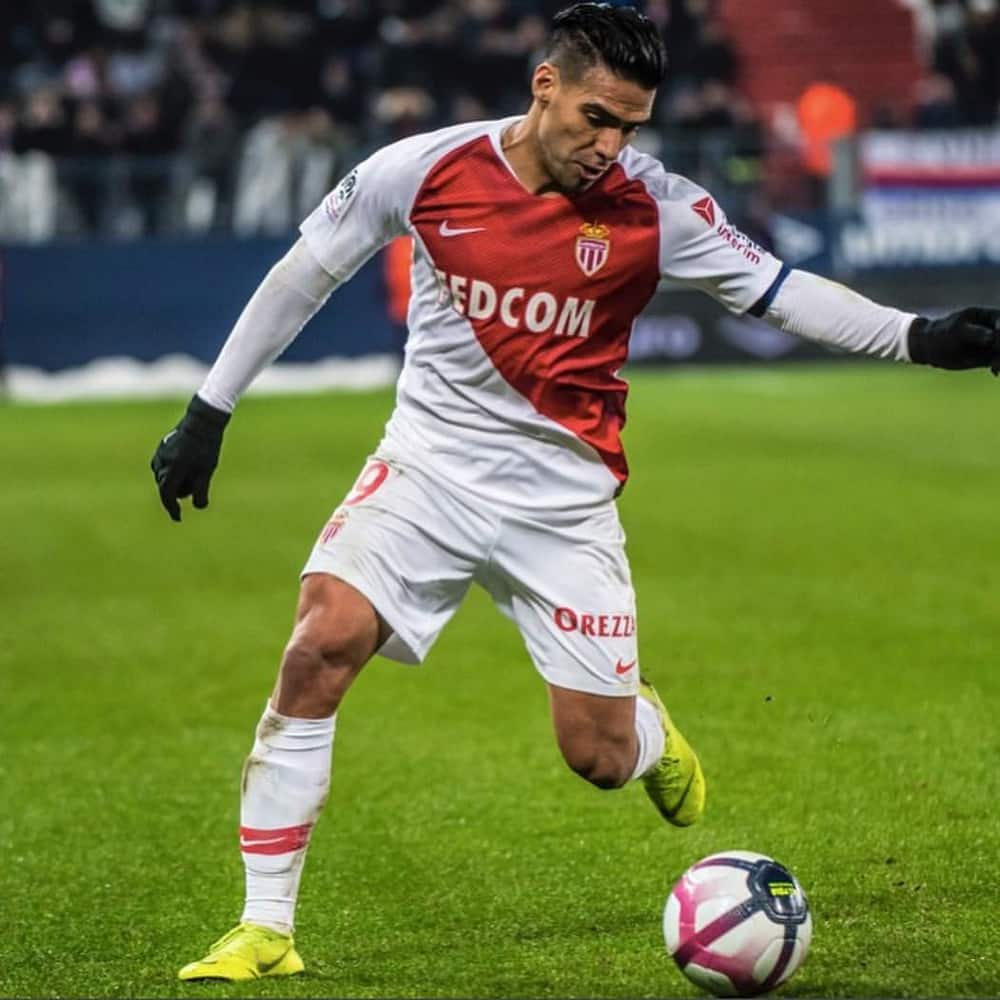 Radamel Falcao whose real name is Radamel Falcao Garcia Zarate is a Colombian professional footballer. Also known by the nicknames "King of Europa League" and "The Tiger" or "El Tigre" in Spanish, Falcao was born on February 10, 1986 and started his career at age 13 playing at Lanceros Boyacá. He serves as the captain and forward player for the Colombian national team and Monaco. In terms of originality, Falcao is partly of English descent since one of his grandfathers, George King emigrated in 1932 from the North Yorkshire village, Bern to work as an accountant in Colombia.
Where is Radamel Falcao now?
Having known who Radamel is, the next question you may ask is, "Where is Radamel Falcao now? Falcao joined Europe's football after being introduced in 2009 to FC Porto; a Portuguese sports club found in Porto City. From there, he spent several years starring in the field and featuring on the scoring charts for the country and clubs. He survived a serious knee injury in 2014 with Monaco where he was loaned out to Manchester United and later to Chelsea Premier League clubs. He eventually rejoined Monaco in 2016 where he led them for the 2016/17 season to Ligue 1 Title.
How many goals has Falcao scored?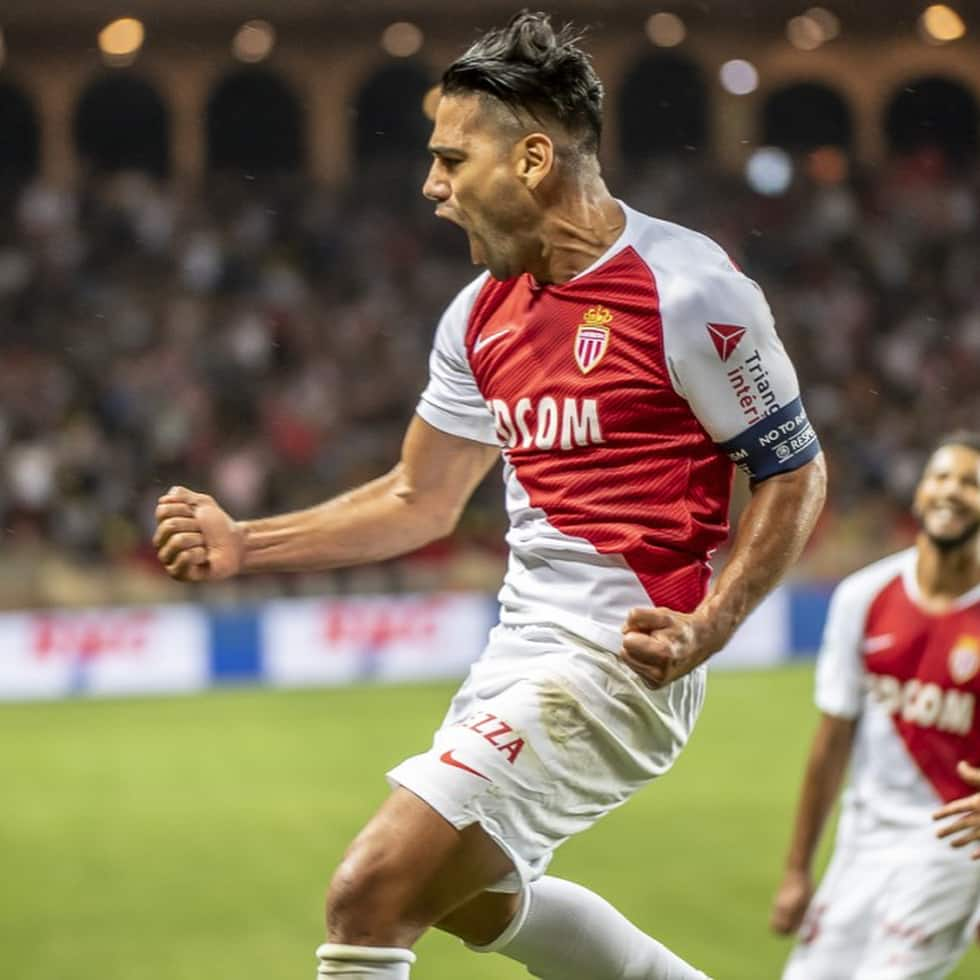 As a key player dominating the position forward for a renown team, Falcao had scored over 76 goals within the 141 matches he has played. In the previous season alone, he scored a total of 20 goals including four goals in the national team both friendlies and World Cup. He also registered 1 assist and played first line game 34 times.
On average, Falcao scored 0.41 goals in club competitions per game. He gave 103 shots in the latest season for Monaco where 42 were goal shots. His passes are about 79 percent.
Who did Radamel Falcao play for?
For all the years he has been playing football, who did Radamel Falcao play for? Below are the clubs and teams that Falcao has played for since he started his football career:
Lanceros Boyacá
It was in 2007 that Radamel made his major debut for Columbia where he earned over 84 caps and ranked as one of the top scorers. He was recognized as the youngest debutant of Colombia professional soccer when he debuted for Lanceros Boyacá at the age of 13 on August 28, 1999. He registered his first goal for the club in a game that ended in a 2-0 win versus Club El Condor. For the two years, Falcao managed to score once in the eight matches he played for the club.
River Plate
In February 2001, River Plate of Argentina purchased Radamel Falcao for $500,000 when Millonarios failed to take him up. He started his career here playing for the youth football team division eight. In fact, it was in Argentina that he scored for the first time twice in October 2005 for a 3-1 win against Independiente. Under Reinaldo Merlo's management, Falcao made a total of seven goals from the games he played. He was allowed to participate in the 2007 Copa Libertadores for his only outing against Colo-Colo early 2007. Having seen his actual worth, River Plate turned down an offer of $15 million from Milan in 2008 and other bids from Fluminense and Aston Villa.
Porto
It was on July 15, 2009 that Radamel Falcao moved to Europe to join Porto for a transfer fee of €3.93 million. He made his debut on the season's opening day against Pacos de Ferreira where he scored a valuable goal that enabled the team achieve a draw. He later scored three goals and became one of the few players who score four goals in Portuguese League in the initial matchdays. Falcao made his debut in UEFA Champions League in a 1-0 against Chelsea on September 15. In a domestic competition Europa League final against rivals Braga, he headed the ball into the goal following a cross from his colleague Fredy Guarin to enable Porto take the title.
While playing in the Europa League campaign, Radamel set a new record of goal-scoring where he scored 17 goals in only 14 games. He prolonged his contract with an additional buy-out clause of €45 million.
Atletico Madrid
Radamel Falcao played for Atletico Madrid for two seasons: 2011-12 and 2012-13. This came after Porto accepted to transfer him at a fee of €40 million but this could be increased depending on performance-based clauses to €50 million. This would make him the costliest player in the history of the club. Falcao did not disappoint his new team after making a debut while away to Valencia on September 10 where he played for the 90 minutes and registered a win of 1-0. He later played his first match against Real Madrid in 2012 and scored the only goal for Atletico Madrid that lost 4-1 due to unique hat-trick of Cristiano Ronaldo. In the end, Falcao entered the books of history as the first player to win two Europa League titles consecutively with two varied teams.
Additionally, Radamel scored two-hat tricks at the beginning of season 2012/13; first against Athletic Bilbao in the La Liga game, and the second in a 4-1 win against Chelsea on August 31, 2012. It was during this time that he became the first player in a UEFA Super Cup final to score a hat trick in the competition's current format. Atletico Madrid later defeated their major rivals Real Madrid in 2013 for the first time in a span of 14 years.
Monaco
Although he was linked to different famous clubs like Real Madrid, Falcao signed for Monaco in the newly promoted Ligue 1 in May 2013. He then accepted a five-year contract for a fee of around €60 million with his annual net salary being about €18 million at Monaco. Having played for the team for four seasons, Radamel became one of the sought-after soccer players in the world where Monaco loaned him out to Chelsea and Manchester United as the top scorer. He scored a sealing 2-0 win against Bordeaux in the 88th minute during the 2013/14 season when he made his Ligue 1 debut.
Manchester United accepted to sign Radamel Falcao on a loan amounting to £6 million on September 1, 2014 after a medical examination. As his custom is, the footballer made a debut on September 14 at Old Trafford in a 4-0 win against Queens Park Rangers where Manchester United won that season for the first time. He scored for United his first goal on October 5 where the team won 2-1 against Everton. By the end of his tenure, the soccer player had made 29 appearances and scored 4 goals.
On July 3, 2015, Radamel signed an agreement with Chelsea on a one-season loan deal with the possibility of a permanent transfer at that season's end. He made his debut at Wembley Stadium in the 2015 FA Community Shield though Chelsea lost 1-0 to their chief opponent Arsenal. While playing against Crystal Palace, Radamel scored the only goal for Chelsea who were defeated by one goal. He could not feature in the Champions League squad 2016 following a muscular injury he sustained while training. Therefore, he returned to Monaco at the end of the 2015/16 season after he recovered, and coach Leonardo Jardim made him the team's captain.
Radamel Falcao wife and children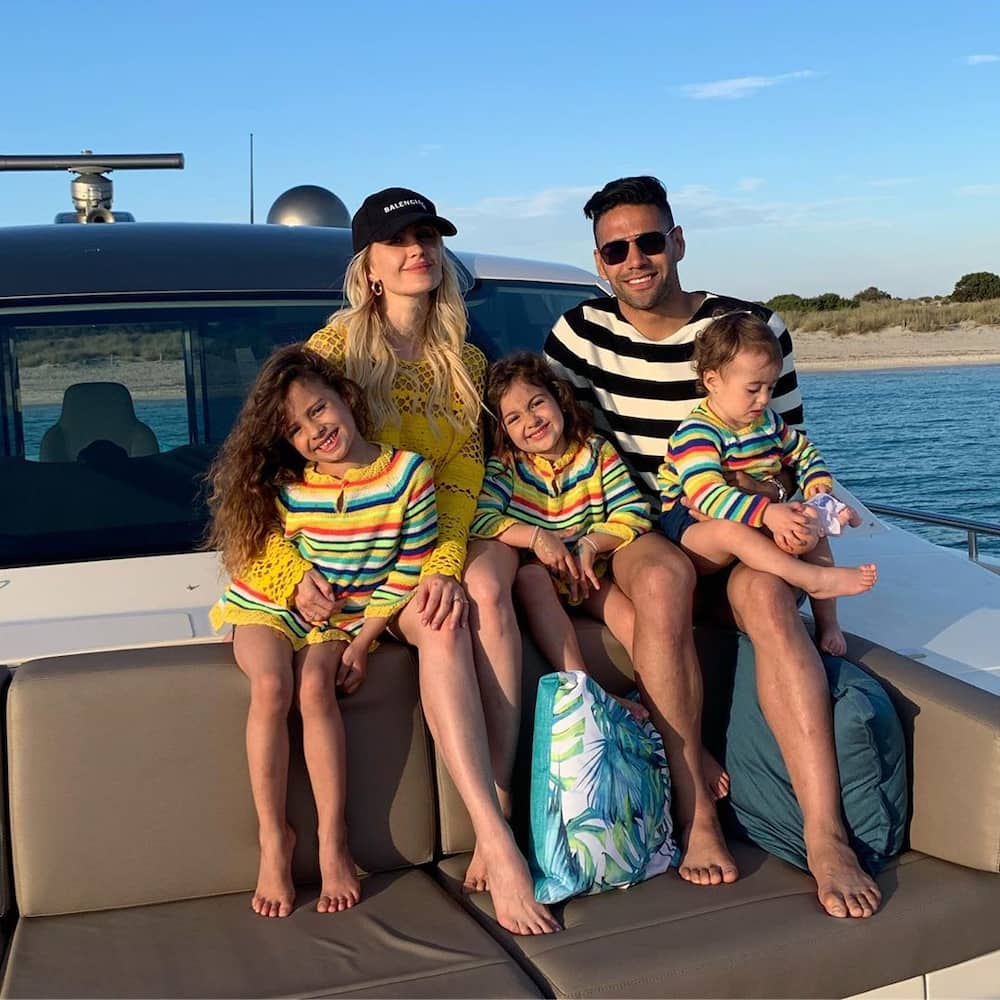 When it comes to family matters, Radamel has proved to be the best husband to her beautiful wife Lorelei Taron by being caring and faithful to her. He is also a responsible dad to three cute children: Desiree Garcia born in 2013, Dominique Garcia born in 2015, and Annette Garcia born in 2017. Radamel Falcao wife is a singer from Argentina whom he started his love affair with in 2004 after he met her in a church in their home country. His wife's Polish ancestry enabled Radamel Falcao children easily acquire Polish passports.
Radamel Falcao car collection
Below is a fleet of Radamel Falcao cars:
Cadillac Escalade, Model 2013
Bentley Continental GTC, Model 2013
Ferrari 458, Model 2014
Range Rover Sport, Model 2014
Audi RS6, Model 2015
While he may not have all his cars in one place, the top scorer has been seen driving one of these in the various places he stays in or visits.
How much was Radamel Falcao paid for transfer?
The question that most fans have been asking is "How much was Radamel Falcao paid for transfer?"
Radamel Falcao was paid €4.5 million as a portion of the loan deal "phantom friendly" that paved way for Radamel to go to Old Trafford. An additional €6 million was paid for the initial contract as a loan fee. The champion footballer cost Roman Abramovich a large sum compared to other players amounting to £7.28 million. He was paid 140,000 per week while in London playing for Chelsea.
How much is Falcao worth?
Having seen his career life and unique lifestyle, the question will quickly jump to mind, "How much is Falcao worth?" With his top-scoring abilities and long-term experience, Radamel Falcao net worth is $70 million. He continues to play in the French Ligue 1 starring for AS Monaco.
Radamel Falcao has maintained a clear track record since he started his career in football at a tender age. He spends most of the time participating in Europa Leagues and currently playing for Monaco as the team's captain. Falcao's abilities to adapt to various positions and goal scoring using his different body parts has made him one of the leading goal scorers in the world.
READ ALSO:
Source: Tuko