While celebrity concept is not new in the country, electric gossip news and modern technology have increased our fascination with fame. For this reason, we are ever curious to know the trending celebrity news about breakups, makeups, new songs, marriages, and changes in the lifestyle of our favourite celebs.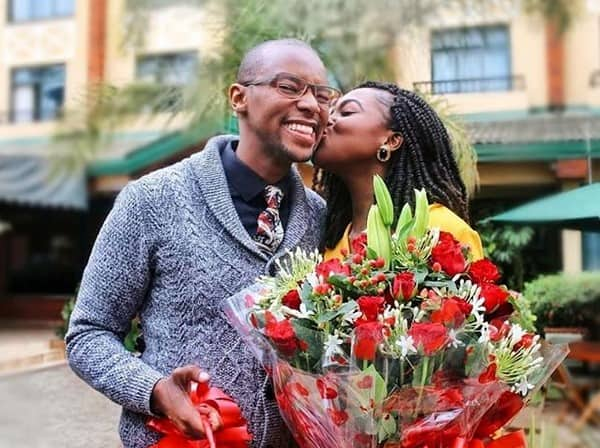 This week's latest celeb news majored on Mr. Seed forcing one of his fans to have sex. Otile Brown also hit the entertainment news headlines after adopting a hairstyle that is only seen on the heads of famous musicians like Masterpiece and Diamond Platnumz. Here is a recap of all the major celebrity news that happened this week.
1. Otile Brown adopts a new hairstyle
Famous music artist Otile Brown surprised many of his loyal fans by posting a clip of him donning dreadlocks. He was reuniting with his new beautiful Ethiopian girlfriend, Nabayet just a few weeks after their breakup rumors.
In the video captioned, "It's Gonna be a good day. Missed you girl Nabbi….#Justinlovemusic #wegotnothingbutlove", Otile is seen kissing the beauty passionately.
Unexpectedly, his new looks were not a hit. Many of his fans thought that he was trying to imitate Diamond Platnumz. To many, his natural hairstyle is the best as it always leaves him looking very sharp. Below are some of the significant comments we came across.
Fanya music we brother mambo yako ya private sisi hatutaki kuhusika wala kujua bwana, Guy Califat advised.
Hukai poa na hizo maupuzi umeshonelea. Kaa vile tumekuzoea budah, Rachael Mum Shiro slammed.
Kumbe wewe ni fan wa diamond ukaamua kumcopy hadi nywele unakaa chura, Rugamba Kate said.
Tumetii , bur iyo nywele kata…be the real Otile, Lordivecael commented.
That hair issa NOOO, Ombura Janet said.
Woiyee Shivo man, please don't do that hair again ..short hair suits you so well, Valentine Nyabuti advised.
Pastor Ng'ang'a na watu wake walitoka kwa matuta na wewe unarudi kwa matuta, a fan wrote.
Following this backlash, Otile Brown took to Instagram make it clear that he was sticking with the hairstyle no matter what the critics say.
Brace yourselves the hairstyle stays for a year. I love it. Polee, the sultry-voiced artist responded.
A few weeks ago, Bahati also took a fashion risk and got some dreads to surprise his pregnant bae. He then debuted the hairstyle on his official Instagram page. His lover was the first to dislike the hairdo.
Babe, I never fold on you… but this look on you, NAAAAAHHHH Bahati who's with me? she posted.
READ ALSO: Trending Celebrity news: Diamond's new song, Bahati's troubles and more
2. Zari Hassan snubs baby daddy Diamond Platnumz on Fathers' Day
Ugandan businesswoman Zari Hassan ejected mixed reactions on social media. This is after ignoring her famous baby daddy Diamond Platnumz on Fathers' Day.
Many women were posting happy messages remembering and praising their baby daddies or fathers. Zari didn't recognize the father to her two kids, Prince Nilan and Tiffah. Instead, she owned the responsibility of being both a mother and father to the two kids. She, therefore, went ahead and wished herself a "happy Fathers' Day."
Happy Father's Day to me, she wrote on her official Instagram page.
This post speculated a lot of mixed reactions. Some wondered if Platnumz was the mother or father to her kids while others congratulated the businesswoman.
Kula rahaa mutoto wa mama Zari the Boss Lady, Wiliams Bugeme wrote.
Happy father's day to all women like you who played both roles as a mother and father, Dumientuli wrote.
Happy father's day mama Pinto and may the good Lord bless your hustle," Zaridie wrote.
Zari mam sisi tunakupenda na hongera san ww ni mwanamke wa shoka wale viswaswadu watalamba lolo this year, a fan commented.
Happy fathers' day Mama may God give you all your hearts desires you give strength to many of us who are single mums God protect you from all the evil eyes I love you Mama Tee, a fan commented.
Diamond Platnumz and Zari Hassan are not in good terms since they parted ways. The two have since been hitting Kenya celeb news headlines for trolling each other on Instagram and media interviews.
Nonetheless, Tanasha Donna couldn't manage to ignore him during the special day. The radio presenter who many of her fans think is pregnant posted a picture of Diamond on Instagram stories. She captioned it:
Happy Fathers' Day mon Coeur. Je t'aime." (Happy Fathers' Day my heart, I love you)
3. Mr. Seed denies claims of forcing himself on a fan
Controversial gospel singer Mr. Seed has come out to clear the air about allegations that he forced himself on a fan.
According to the female fan, the former EMB records artist forced her to have sex in his house.
He forced me to have sex with him in his house, and because I did not want it to look like it is rape, I gave in and slept with him, she said
Speaking to The-Star newspaper, the female fan revealed that she had gone to Seed's place to get advice on how to make it in the filmmaking industry. She added that it was the gospel artist who invited her to his house.
In response, Mr. Seed trashed the allegations citing that he is married and for this reason, he cannot invite other women to his mansion.
Of late, people have been making false claims about me. Those are my haters. These people are trying to fight my brand. Tell her if she has a history of defamation, then she should continue doing that. People are using pseudo accounts to abuse me, he said.
Mr. Seed and Nimo Gachuiri have a child, but they don't live in the same house as the latter lives with her parents. Instead, he lives with his best friend and gospel singer Ndume who at one point was caught red-handed trying to cover up Mr. Seed's scandals.
A few weeks ago the female fan who sought anonymity called Ndume asking why his friend was going around announcing to people that he had sex with her.
In response, Ndume told her that it wasn't right for the matter to go out of hands as Mr. Seed was married and minded his brand.
Mr. Seed is a brand, and you know he has a wife and a kid. So if this escalates to that level it won't be a good thing and it is not like you did not know, he urged.
The female fan then acknowledged that when she was going for the artist's advice, thoughts of the incident happening never crossed her mind.
Yes, I went to his house, but I did not think it would get to that point, she replied.
Ndume interrupted, telling her to shut her mouth.
Eventually, it happened, and that is not the problem. The problem is if it happens again, it is not my business. Don't tell anyone because they are not there. If anyone asks tell them it is none of your business. With time people forget, he urged her.
The-Star newspaper contacted both Nimo and Ndume seeking clarification of the matter. The latter denied phone conversation allegations. On the other hand, Nimo accused the female fan of being employed by their enemies whose business partnership with them failed miserably.
They are working so hard to make sure that Seed's brand is tarnished, she revealed.
READ ALSO: Trending celebrity news: Kamene Goro, Nameless, Rose Muhando, Bahati and more
4. Diamond Platnumz alleged side chick comes out clean with a strict warning
Vivian finally came out to clear the air about Diamond Platnumz side chick allegations.
The German-based Kenyan lady who goes by the name Vivafabrica on her Instagram page said she is someone's mother and wife and not a husband snatcher.
Dear TZ people am not the type to write or worry about what people talk about me. Am someone's mum and wife, she wrote.
She added on and said that she respects Platnumz and that they only have projects they are pushing on together. She insisted that Diamond is someone else's man.
This drama you all want to start won't go nowhere cause I respect Diamond and he is a person I want to work with. Mbona kuaribiana majina tafadhali. Diamond is someone's man sijafunzwa na mamangu kuibia mwenzangu. Na nina familia. Hizi kiki sio nzuri cause now this is a person I'm to work with, she added.
Vivian concluded by asking for some respect from the blogger who created the drama.
Please @the_originaleast nakuheshimu sana and I would like to have the same respect back. This post just put it down. Thank you, she said.
Her bitter words came after a famous Tanzanian blogger by the name Originaleast shared photos of her when Platnumz was shooting the "Inama" video with Fally Ipupa.
Originaleast claimed that Vivian was promised a ring by the "African Beauty" singer and his mom Mama Dangote whom he alleges was receiving from her. The blogger further revealed that Diamond was in Europe and that the dance choreographer and model was warming his bed as the two usually travel together wherever the singer goes.
Diamond is in a serious relationship with Kenyan radio presenter Tanasha, and this is not the first or the second time he has been accused of having extramarital affairs.
5. Joyce Omondi and Waihiga Mwaura kept their relationship a secret when they were working together
When Joyce Omondi and Waihiga Mwaura announced that they were going to tie the knot in 2015, the celeb news in Kenya came as a surprise to many.
Well, it turns out that it is not only Kenyans that didn't know about their relationship. Their work colleagues too couldn't tell whether the two were dating.
In a candid interview with the Salon Magazine, the couple revealed the unknown information about their dating and how they managed to keep their love a secret.
We decided to be very private about our relationship from the beginning. Many people including our colleagues did not know that we were dating until we got married. That is why this is the first and only interview we shall do in a very long time, the Mwauras said.
The two revealed that they met in the year 2012 when Joyce was leaving from her Rauka Sunday show. A few months after the meeting, he invited Joyce to his birthday, but she couldn't make it. When her birthday came, Waihiga was invited and attended it. Since then, the two started a serious relationship.
Since they were celebrities, they decided to get serious about hiding their love life and keeping it private from the start till marriage.
We keep to ourselves and rarely post about each other apart from special occasions. Anything precious is best kept hidden, and that has been our policy, they revealed.
Talking about how they managed to keep their relationship positive and growing, the Mwauras revealed that they work on the simplest things like spending time with each other.
They concluded by saying that God is an essential pillar in their marriage.
It is by grace that we have come this far. He knows us best, and we know that he brought us together for a reason, they concluded.
6. Diana Marua shouts at her lover
Bahati's reality show continues to receive heavy criticism and negative reviews as many Kenyans feel the TV programme is scripted.
So far Being Bahati is in its second season and a few Kenyans agree that Baha and Diana entertain them.
Well, in the recent episode of the reality show, Bahati and his wife Diana are seen arguing on who is going to clean the house.
Baha walks into his untidy mansion before turning to his wife to ask why the house is dirty.
This is the Ghetto president residences Hakuwezi kukaa hivi upside down, What's not happening, Beb hii Nyumba ni chafu. Vile nyumba inakaa, he says.
Pregnant Diana jumps in and warns Baha of taking advantage of her situation.
Kaa nyumba ni chafu twende wote tukaitengenezee, si wezi osha nyumba pekee yangu. Let me tell you something, sijui mbona unapenda kuchukua advantage ya zile situation mimi hukua, she says.
She adds on and confesses that it was Bahati who pressed her to have their second baby so they should do all the house chores together.
You can't be telling me tutakula mapenzi, Mbona uliharakisha tupate Baby number two, si wewe ndo ulitaka baby number two and then right now you are leaving everything to me. Who is the pregnant one here? Let's go and make that house together. Kwa hivyo unipatia mimba, nijibebee na nijishughulikie sindio? she reveals.
Fans still felt that that the episode was again scripted. According to many, nothing felt real.
There you have it, the trending celebrity news that happened this week. Stick around for the next episode of the mainstream weekly celeb stories.
Subscribe to watch new videos
READ ALSO: Trending celebrity news: Zari, Diamond and Tanasha drama, Khaligraph's new look, Anerlisa Muigai and more
Source: Tuko