Close to a year after Ugandan business lady Zari Hassan rejected Ringtone's advances and a Range Rover gift, Ringtone is back on the dating scene.
The 'Pamela' singer is now looking for a wife who cannot only pray for 5 hours but also possesses the gift of speaking in tongues.

I am the whole package – Ringtone (Instagram)

Ringtone made these outlandish demands during an interview on Milele Breakfast.
"Prayer is an important pillar in a family. I would want a woman who prays for at least 5 hours, speaks in tongues without stopping. I pray for more than 5 hours, approximately 8 to 9 hours and that is why I am successful right now. I have succeeded due to prayers," Ringtone said.
He went on to add that he doesn't want a woman who spends time pampering herself, he wants a hardworking woman.
"I don't a woman who has long nails, I want a woman who is hardworking and who is looking for a God-fearing good man. I am serious and I ask you to help me," he said during the interview.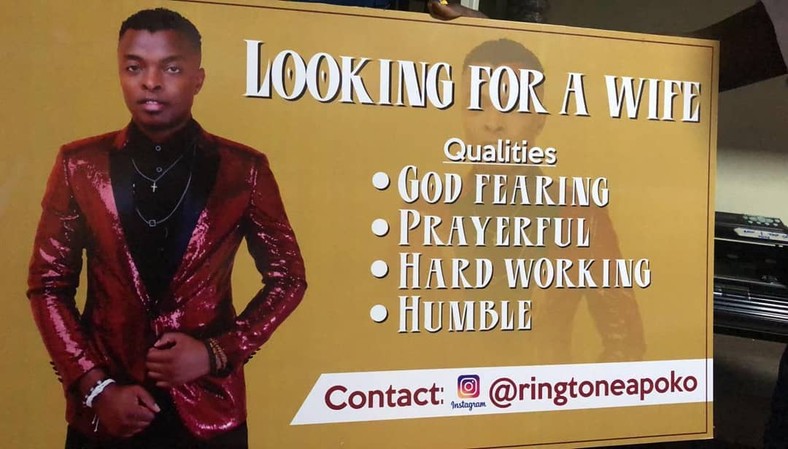 Ringtone's placard with more demands (Courtesy)

Also Read: I still love Zari Hassan – Ringtone
Ringtone arrested
Controversial Gospel Singer Ringtone Apoko was arrested last Monday while on a mission to look for a wife at the Cooperative University located in Karen.
 According to Ringtone who spoke exclusively to Pulselive.co.ke, he was arrested for lacking a permit to carry out his advertisement of looking for a wife in the city using placards.
 "I have been released with a warning. The police decided to hand me over to county Askaris and I was warned and told to get a permit to make any advertisements even holding placards," claimed Ringtone.