Dennis Itumbi almost broke the internet with a poster announcing that Jacque Maribe was pregnant and was throwing a baby shower .
The said baby shower would be held at Cahoots Pub along Kindaruma Road on June 22 and unlike most celebrity baby showers it was a come-one- come- all situation.
"All invited. @cahootspub pub, pale Kindaruma Road. Dress Code – Your Favourite [email protected]," read the caption to the poster.
This poster emerged amid claims that the news anchor was pregnant and set off a debate about who the baby daddy is between Jowie and Dennis Itumbi.
The photo is from Jacque Maribe's first pregnancy
But it seems that Itumbi could be pulling our legs. This is because the picture on the poster is from her first pregnancy and also judging from how Jacque's sister reacted.
Commenting on Itumbi's post, Cate Maribe seemed very surprised by the news.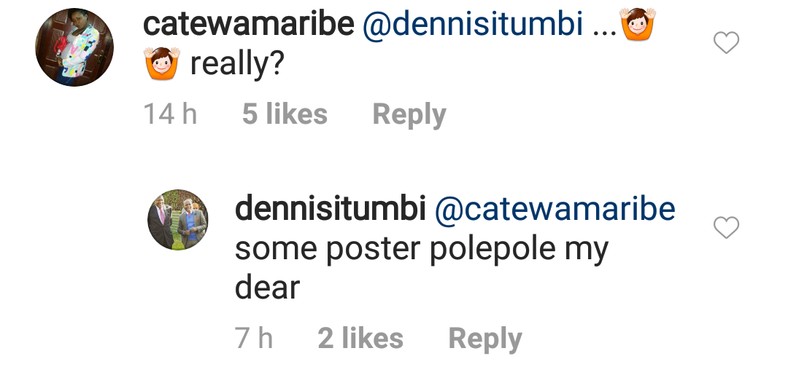 Cate Maribe's reply (Instagram)

She then took to her account and made a comment along the lines that she found the whole situation laughable.
"Vile kiki (her daughter) amecheka story ya cahoots bar….. #boredom is real," read her post.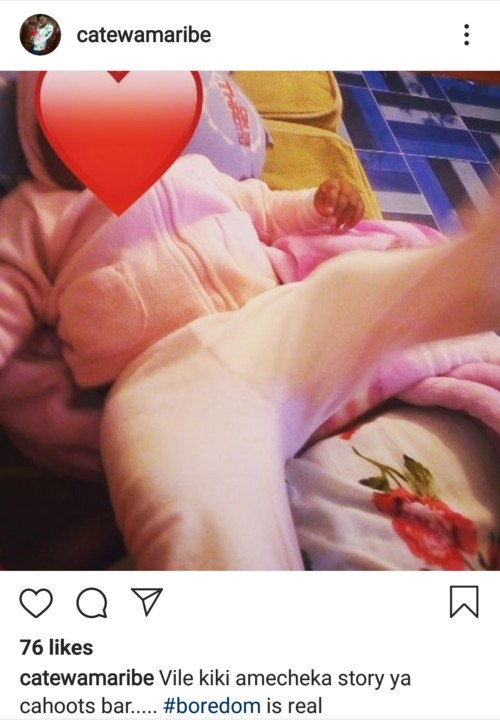 Cate Maribe's post (Instagram)

Jacque's innocence
This is not the first time that Itumbi has left fans talking because of his comments on Maribe who he has remained loyal to ever since she was linked to the brutal murder of Monica Kimani.
A few weeks ago he revealed that on a flight to Nigeria he sat next to Missionary Paul Ngarama, Monica's dad. And on that flight, the missionary told Itumbi that he believes that Maribe is innocent.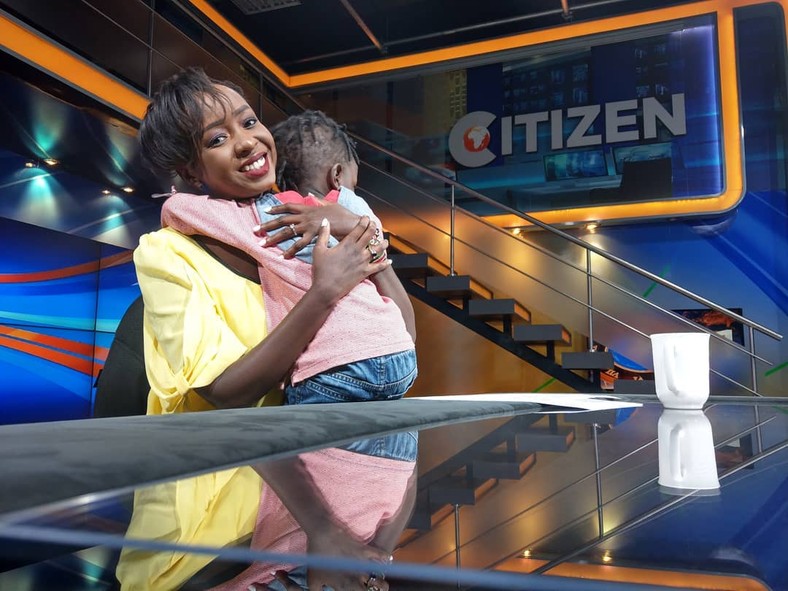 Maribe and her son (Instagram)

Read the whole post below:
On a flight to Nigeria, some months ago, this year, I sat next to a great man. He knew me by name and almost every update I made here.
"I follow you Dennis and I love your updates, especially the way you deal with insults," He told me.
He then asked if we can change positions, he wanted the window position. I agreed. He then introduced himself by name and business card. I appreciated and in turn shared my contacts.
As we took off, he told me he knew me beyond Social Media. I had seen he was a Bishop, so I tried a little guesswork. None was right. I am Missionary Paul Ngarama. I am the late Monica's Dad.
We chatted. He took me through his life, his family and Monica's life too.
" I do not believe Maribe killed my daughter,"
" I love that you have stood by her throughout,"
" The Story of Jacque was just for Media. Anyone of my age and who is a parent knows it is not true"
Before we alighted we promised to meet when we return to Nairobi.
On return, I have not met him because I do not want to be accused of interfering with witnesses.
Most importantly though, he held my hand. Said a prayer for Me, Jacque, her mother and Father.
A great Father and bishop who lost a daughter to a cruel act.
" I lost a daughter I loved. It has taken time but I am healing, we had many plans, my daughter was learning business, but what do we say other than thank God for giving us Monica?"
" If you see Maribe's Mum and Dad, tell them that one day when it is all over we can pray together as parents, maybe we are the people God wants to use to reach to our young people"
I cannot produce the entire chat we had during the flight.
So sometimes before you comment take time, think about what you know and the much you do not know.
As always Baba Monica and family, I pray that you find justice and I know like me you agree wrong and lazy prosecution is just postponing justice.
God Bless You.