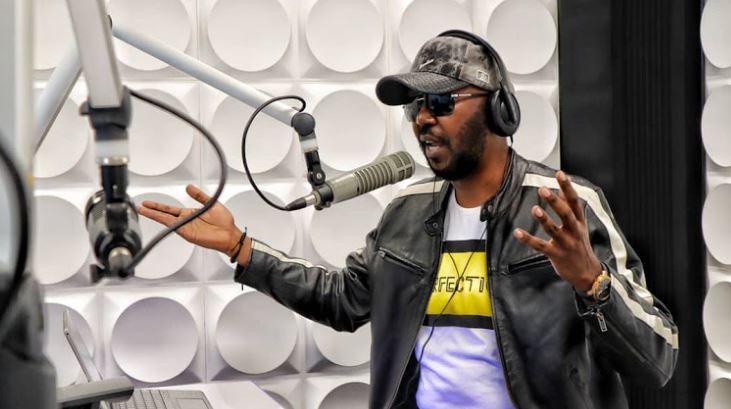 Andrew Kibe went from a vlogger trending for his raw takes on various issues, to a presenter with some of Kenya's most popular radio stations – Kíss FM and NRG Radio – and now to one of the most prominent online media personalities in the country.
Understandably, Kibe isn't everyone's cup of tea. Take-downs of influencers, artists and content creators, as well as discussions on social issues form the bulk of his regular content, regularly attracting support and disaffection in equal parts.
Regardless, his consistency has enabled him to build one of the fastest growing digital brands online at the moment. His daily livestreams can attract tens of thousands of viewers, as was apparent last week when he raised around Ksh350,000 to reward the Kisii University student who went viral for his impression of Deputy President Rigathi Gachagua.
The audience sent in cash denominated in various currencies during the livestream, revealing their diverse geographic locations. Kibe himself is based in Texas, having relocated there after a stint in radio in Kenya, including at his own online radio station, Rogue Radio, which he set up after quitting the morning show at Kíss in 2020. Kibe has previously revealed that his exit from radio left him struggling financially, further claiming that friends deserted him.
"2020 ilikuwa imeniokota bruh (2020 hit me hard), I lost my moti (car), I lost the house I was living in, I was homeless for a moment," he confessed in a video on Instagram.
"When I left Kíss FM my friends thought I had been fired and did not want to help. All the calls and texts I was getting stopped coming," he stated.
READ>>From KQ to SportPesa CEO & MP: Inside Ronald Karauri's Embattled Rise
He eventually partnered with a friend and opened studios for Rogue Radio in Nairobi before his big move to Texas, and has previously stated that he was only in the US to visit before getting the idea to produce his content while based there.
Besides collecting cash from fans during his livestream, Kibe sells subscriptions to his content on Patreon, and monetizes his videos on YouTube – where he has been growing fast in recent months and now has close to 300,000 subscribers. Kibe has previously stated that he felt he was not cut out for mainstream radio, which requires presenters to be careful with what they say due to the regulatory standards and corporate interests involved.
He left the urban radio station NRG Radio alongside his then co-host Kamene Goro for the rival Radio Africa Group-owned Kíss FM, as Radio Africa looked to boost their ratings with the controversial duo on their morning show, traditionally an advertising goldmine.
In a recent video, Kibe stated that he cannot envision returning to mainstream radio, mostly because he wants to be able to keep his content unfiltered and doesn't want his expression interfered with. Either way, his growing popularity offers a glimpse into the democratization of media as traditional mainstream brands now compete for eyeballs and advertising cash with independent creators from across the world.